Rooftop Terrace
The hotel's panoramic rooftop terrace with sea view of the Costa degli Etruschi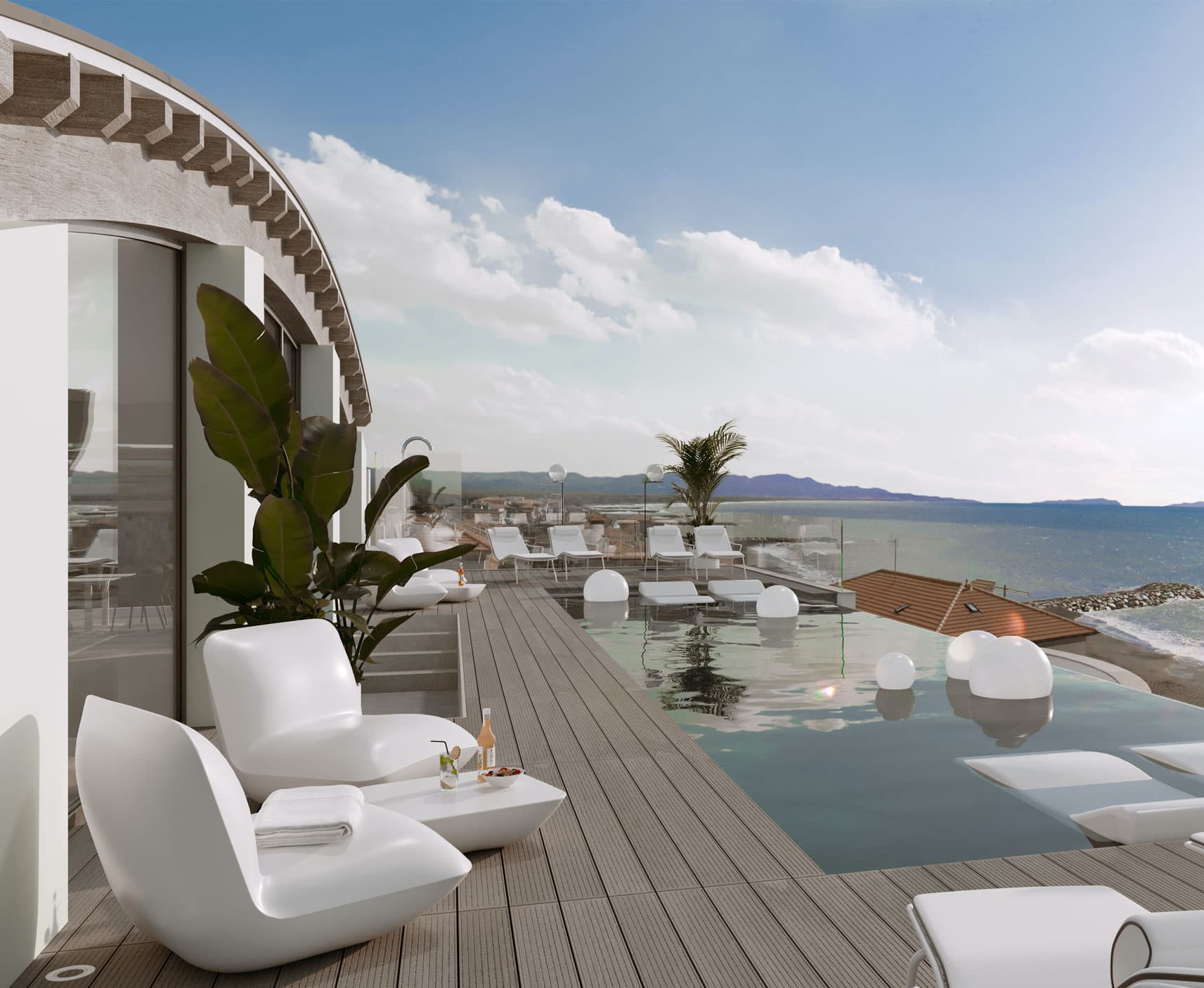 Hotel with seafront pool in the heart of Tuscany
Relax in the panoramic pool of the hotel, surrounded by the Costa degli Etruschi
Located on the fifth floor of the hotel, our swimming pool with sea view, measuring 14×3 meters (46×10 feet), is an exclusive place under Tuscany's sun.
Furnished with functional and elegant elements, the area surrounding the infinity pool was designed to ensure the best comfort, a relaxing spot overlooking Marina di Cecina's beach. It is possible to access the swimming pool every day by reservation, with an extra fee. The access is allowed for children over 13.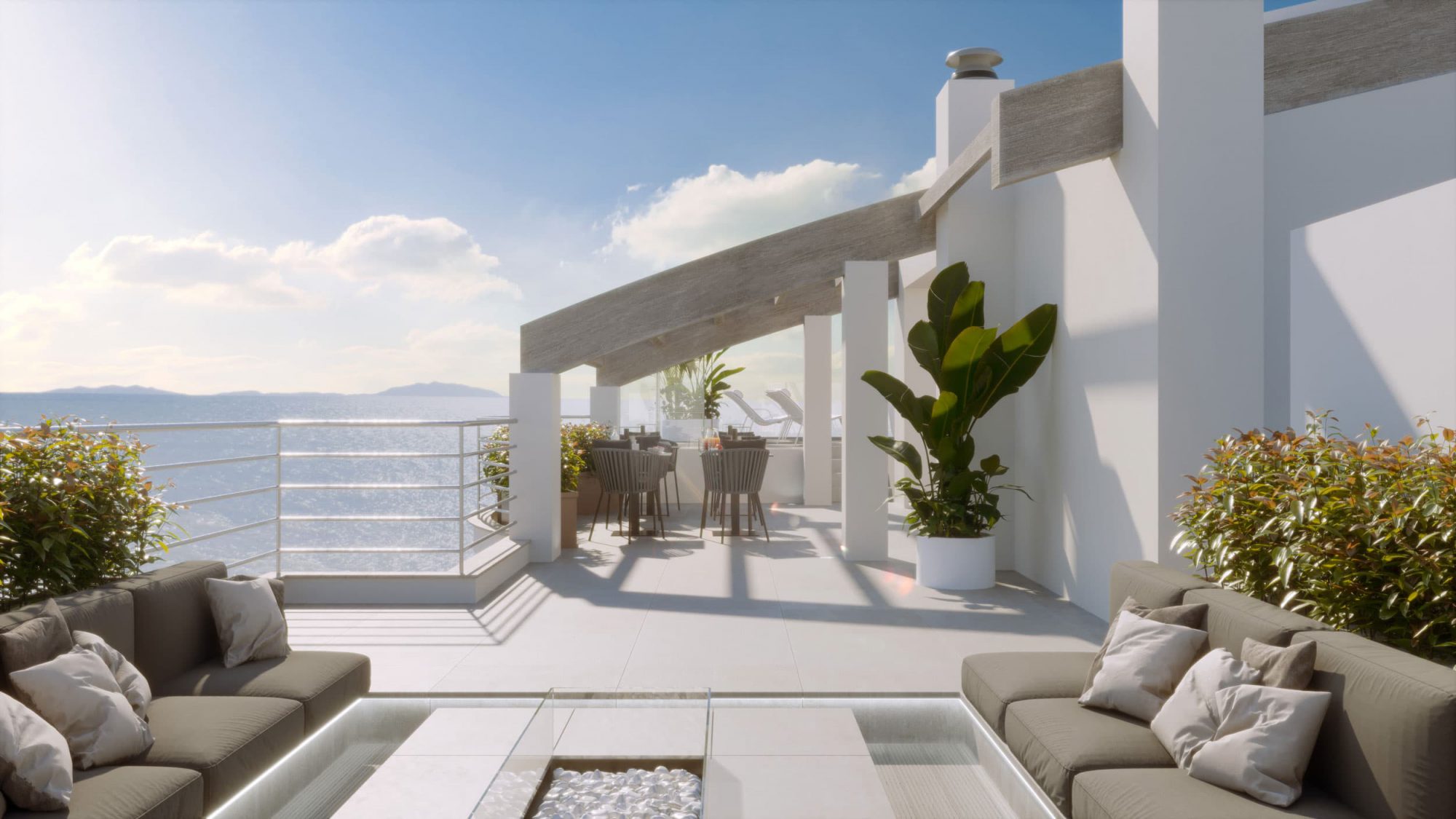 Breakfast with a sea view of the Costa degli Etruschi
Fresh and authentic products every morning selected by the chef
We give special attention to breakfast. Each day Ostro's cuisine selects the best products to prepare the buffet on the rooftop terrace that will amaze you with an enchanting view of the Etruscan Coast.
Croissants, homemade cakes and biscuits
Fresh bread, local organic jams, cereals and fruit
Scrambled eggs, bacon, cold cuts and fresh cheese
The authentic food and the wide selection of coffee drinks will have you enjoy your stay at our four star Hotel in Marina di Cecina right from the morning.
Smoking is not permitted in the rooms and in the common areas of the Palace Lido Hotel & Suites.
We are sorry but pets are not allowed.
The solutions we offer for your stay in our rooms and suites are:
Overnight stay and breakfast
Overnight stay, breakfast and dinner
Get in touch with us, our qualified staff will be glad to give information regarding availability and prices.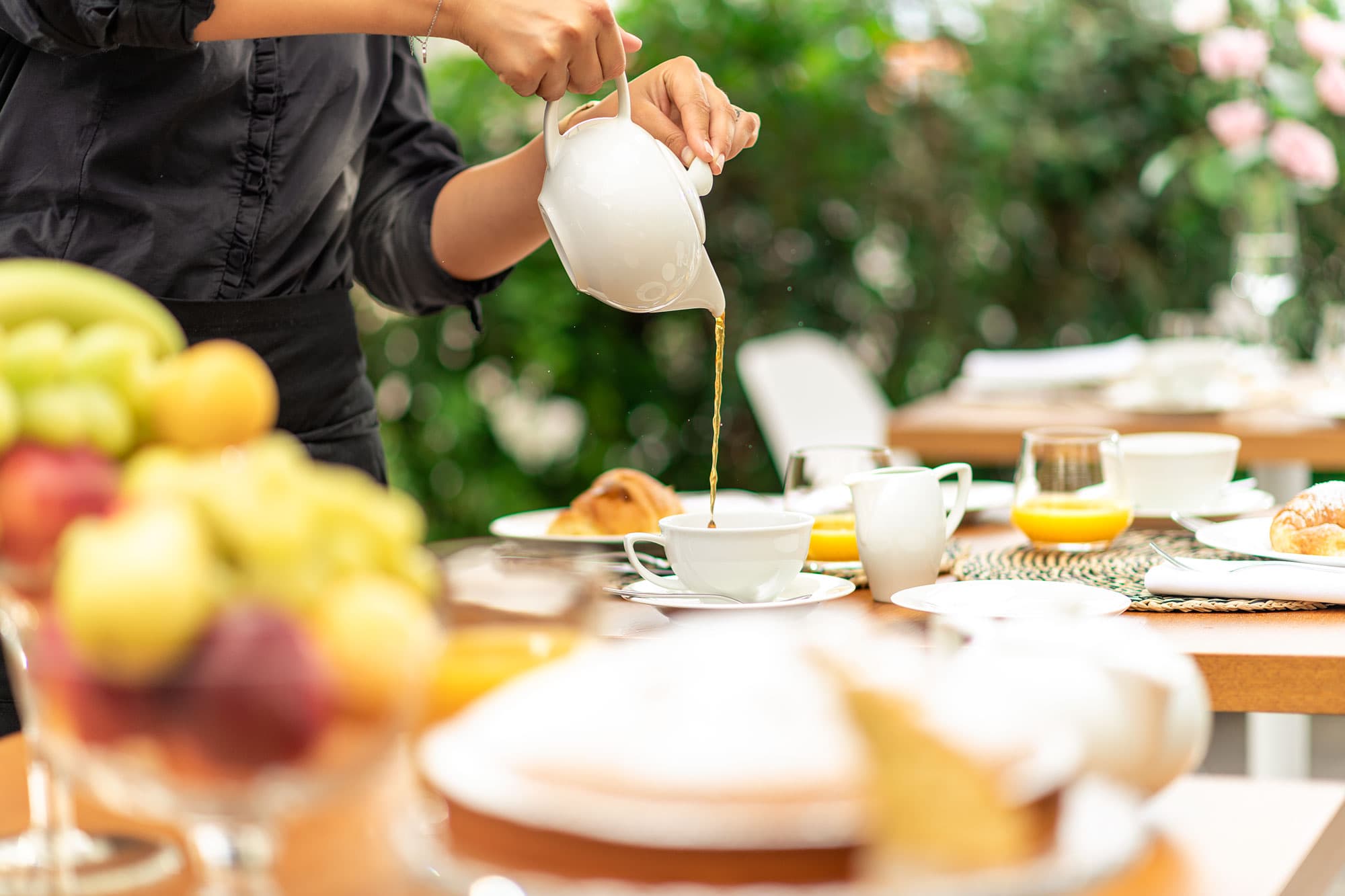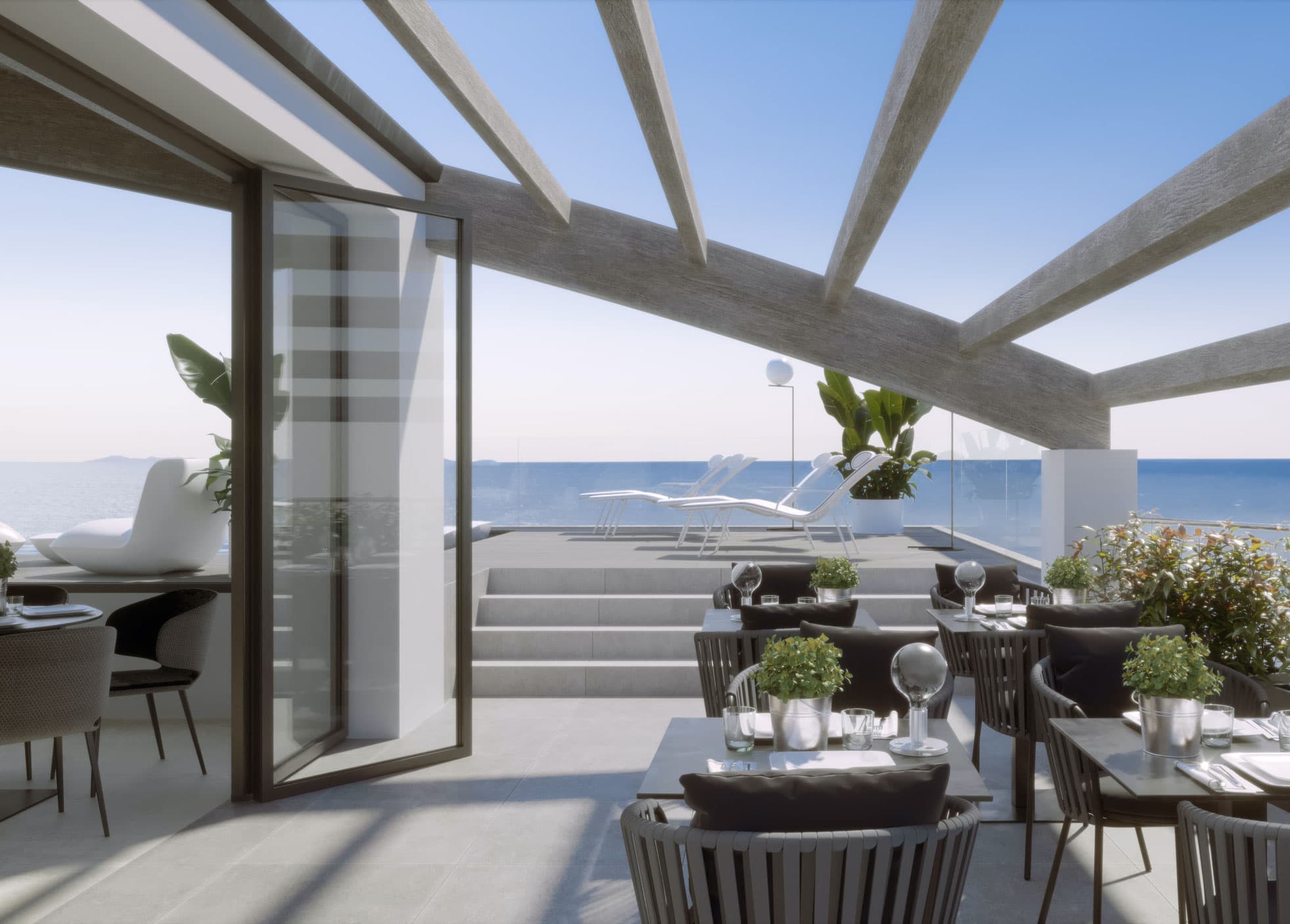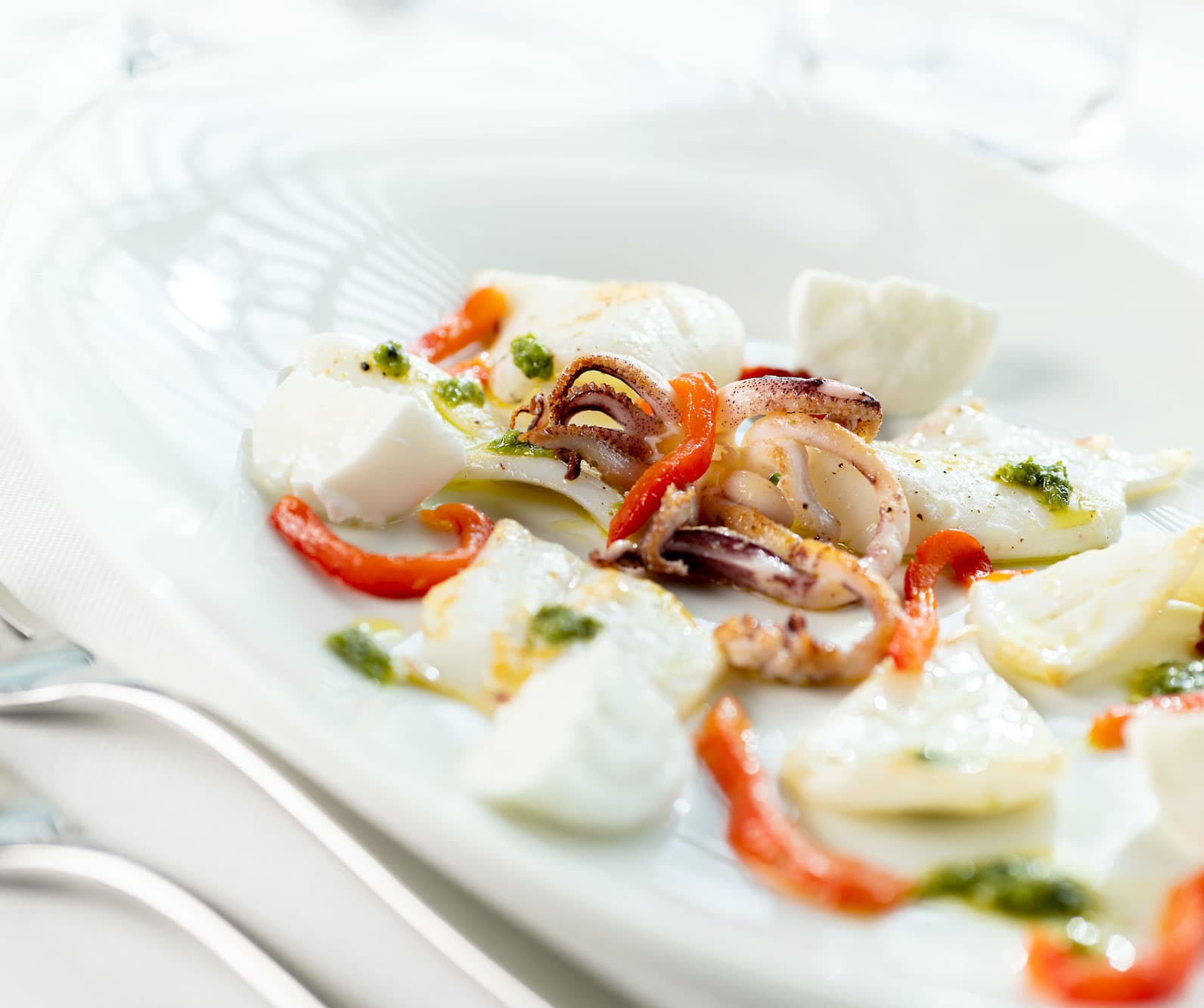 Delicious Light Lunch with a view of Tuscany's sea
A quick summer lunch while relaxing in Marina di Cecina
At lunch we offer quick and light summer dishes to easily enjoy while seated, appreciating Tuscany's coast from above. Light lunch is served every day on the panoramic terrace of the hotel, only a few steps from Marina di Cecina's beach.
Ostro's Cuisine offers an à la carte menu including delicious salads, first courses and fresh desserts. A delightful and easy lunch break, perfect for the hot summer days, to restore yourself before going back to the pool or on the beach.
The service can be requested and reserved any day during your holiday before 11.00 am by contacting the hotel reception.
Cocktail bar with panoramic view
Enjoy a cocktail by Tuscany's sea at sunset
The Cocktail Bar is set up on the panoramic terrace of the Palace Lido Hotel & Suites in Marina di Cecina. An elegant and relaxed environment, perfect for unwinding at sunset or chatting after dinner.
High quality products transformed by the hands of our bartenders who create soft and hard drinks that can be enjoyed by the pool on the terrace, along with fresh light snacks prepared by Ostro's Cuisine. Wine lovers can choose among many local products and a selection of the best Italian and international labels from our wine cellar.
Access is restricted to the hotel's guests only. Get in touch with us, we will be glad to provide more information.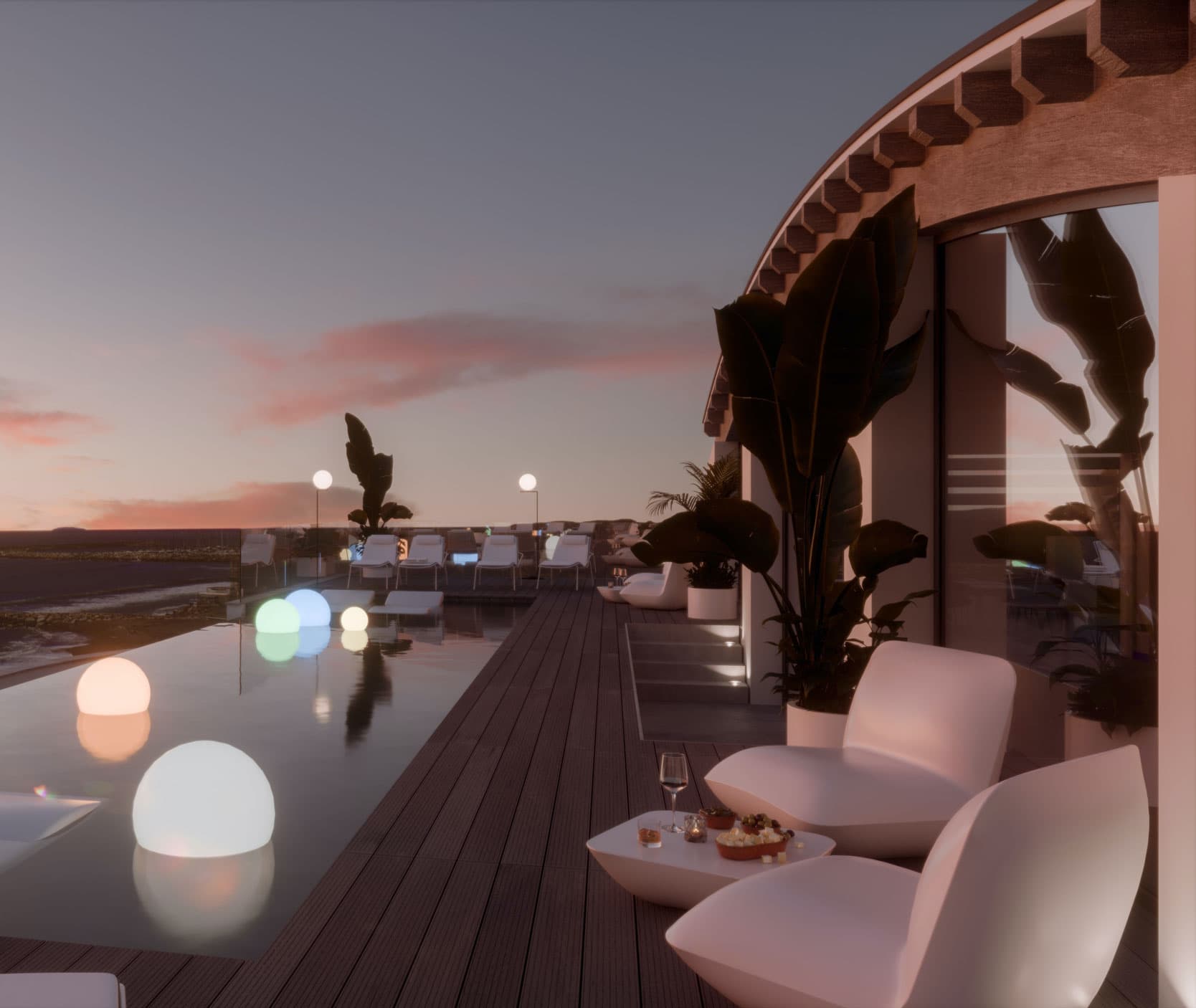 Rooms & Suites by the Tuscan Sea
Harmony,
Comfort and
Design
Three types of rooms and two exclusive suite styles equipped with Wi-Fi connection, a Samsung® Smart TV, a furnished balcony and a charming view of the sea in Marina di Cecina.