Ostro's cuisine
A journey into the flavors of the Tuscan sea in Marina di Cecina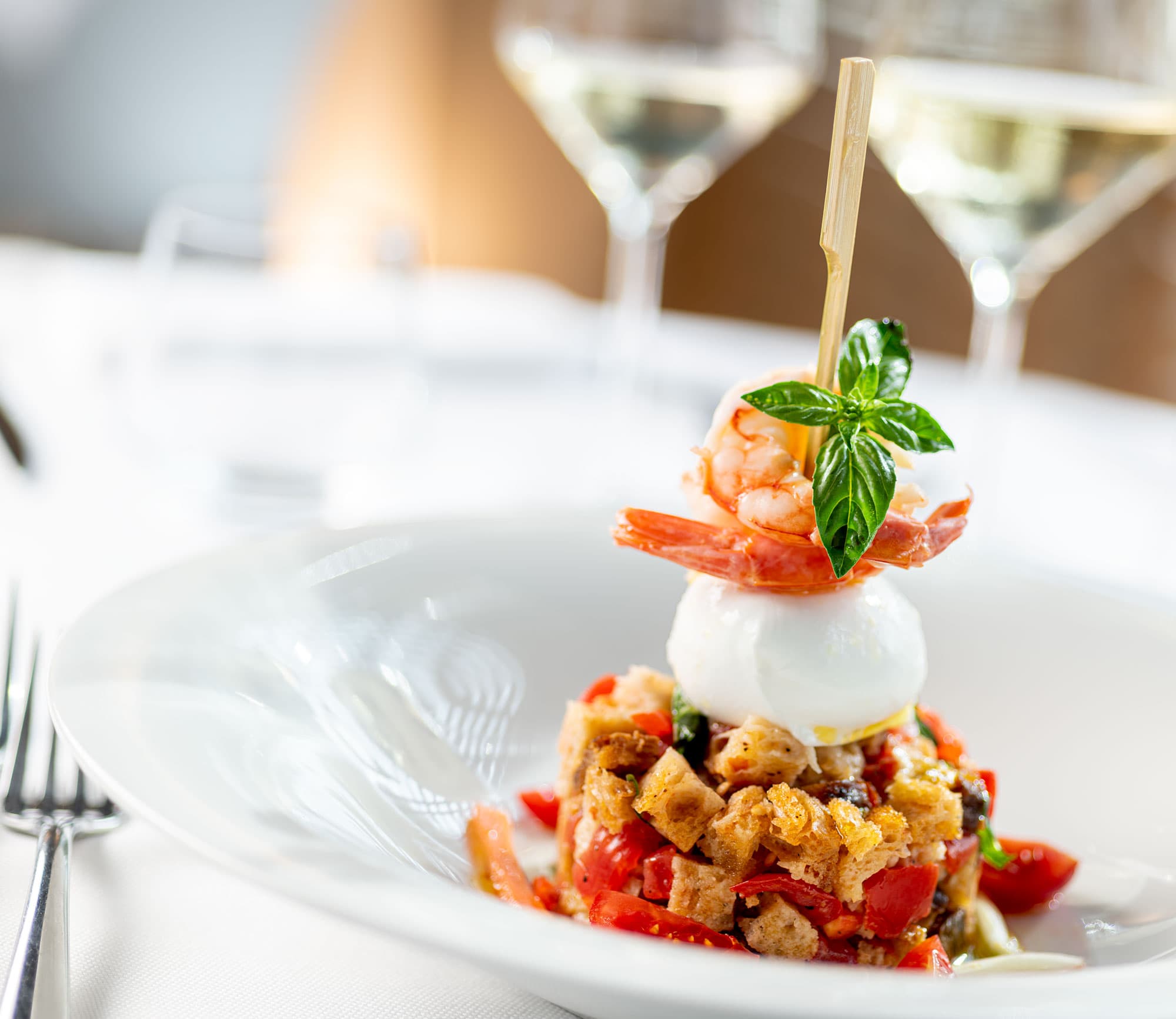 Ostro is the name of the wind
blowing from the South
Restaurant with seafood cuisine in Marina di Cecina
Directly connected to the Hotel, the restaurant is a familiar and exquisite place where the traditional Tuscan cuisine is reinterpreted in a modern style. With an indoor dining room and an outdoor terrace, our restaurant with seafood cuisine is in Marina di Cecina, a few steps from the beach.
The menu offers fresh and authentic products, especially seafood. The ingredients are chosen according to the seasonality of the products in order to prepare unique and constantly evolving dishes. Selecting fresh fish products and seasonal vegetables, our chef creates seafood dishes that enhance the flavors of the Tuscan coast.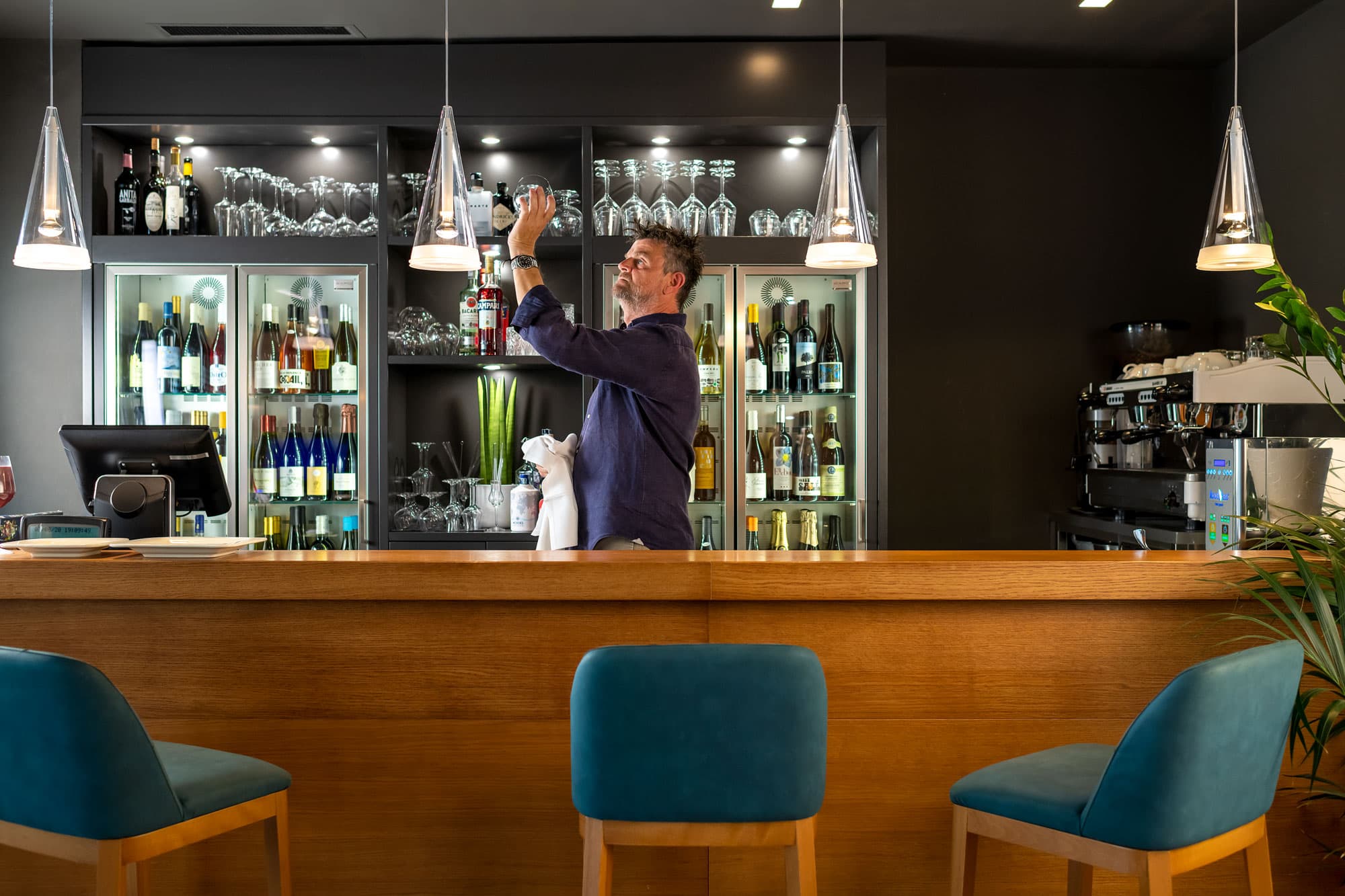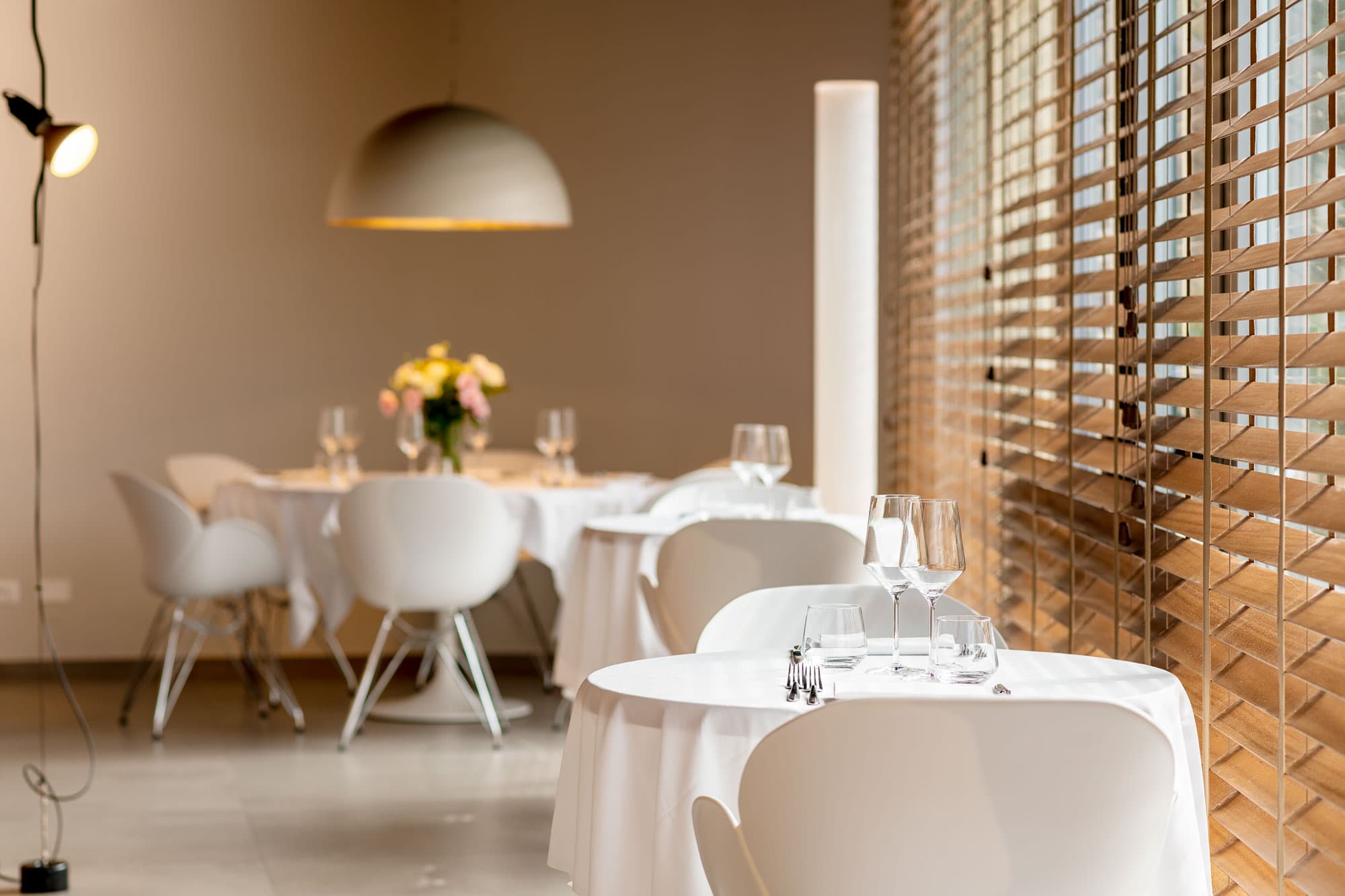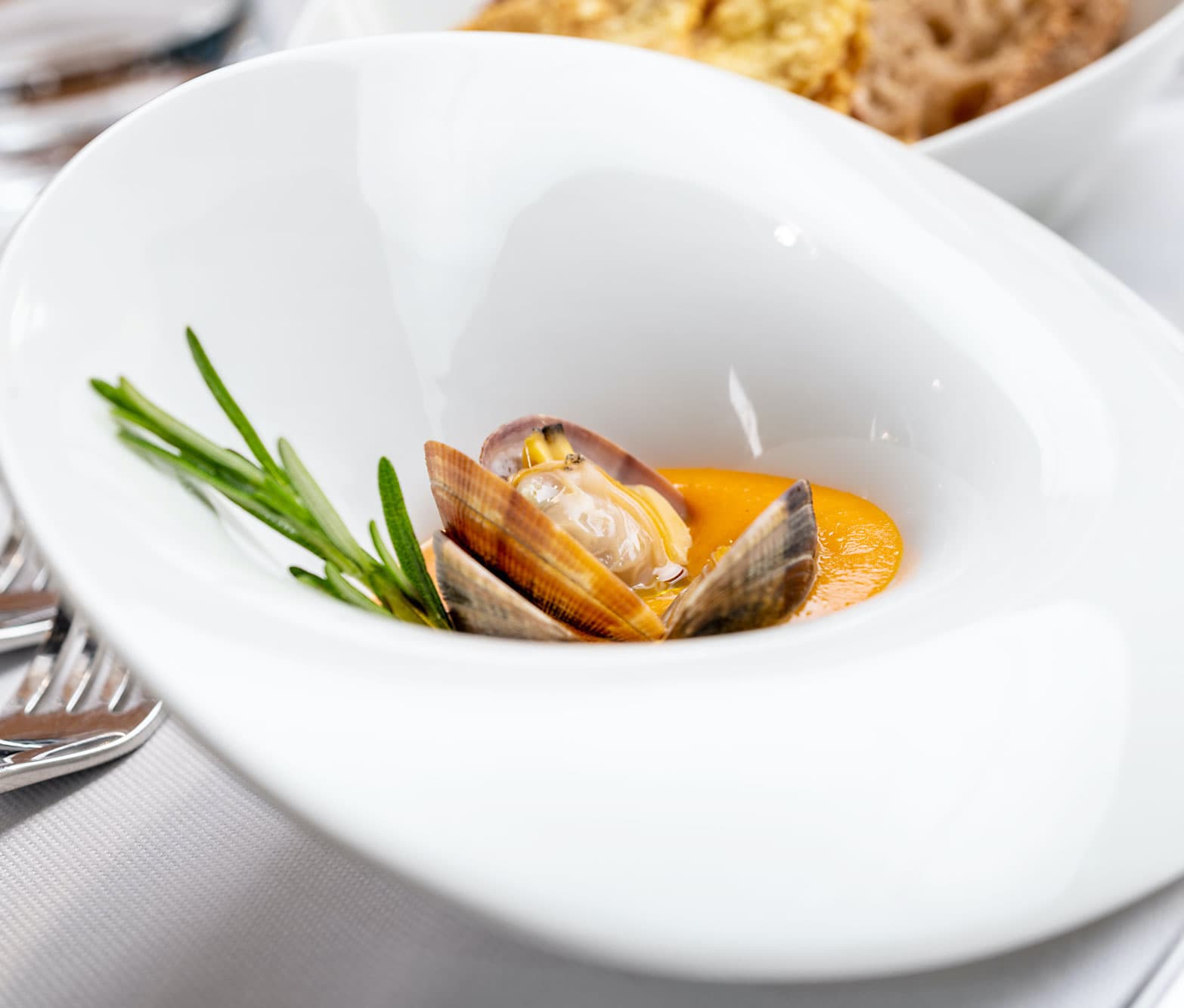 Dining
Gourmet seafood dishes that embrace the Tuscan traditions
Ostro's Kitchen offers an à la carte menu for dinner: high quality and sophisticated dishes made using the best local products create seafood courses that can be paired with a vast selection of wines from the cellar.
We offer a gourmet dinner that includes:
Welcome entrée
Two courses to be chosen among appetizer, first course and second course
Dessert
Coffee and water
You can dine at the restaurant every day between 7.30 pm and 8.30 pm. You can inform the staff of our 4-star Hotel of any allergies and/or intolerance while booking or during your stay.
Get in touch with us, we will give you more information.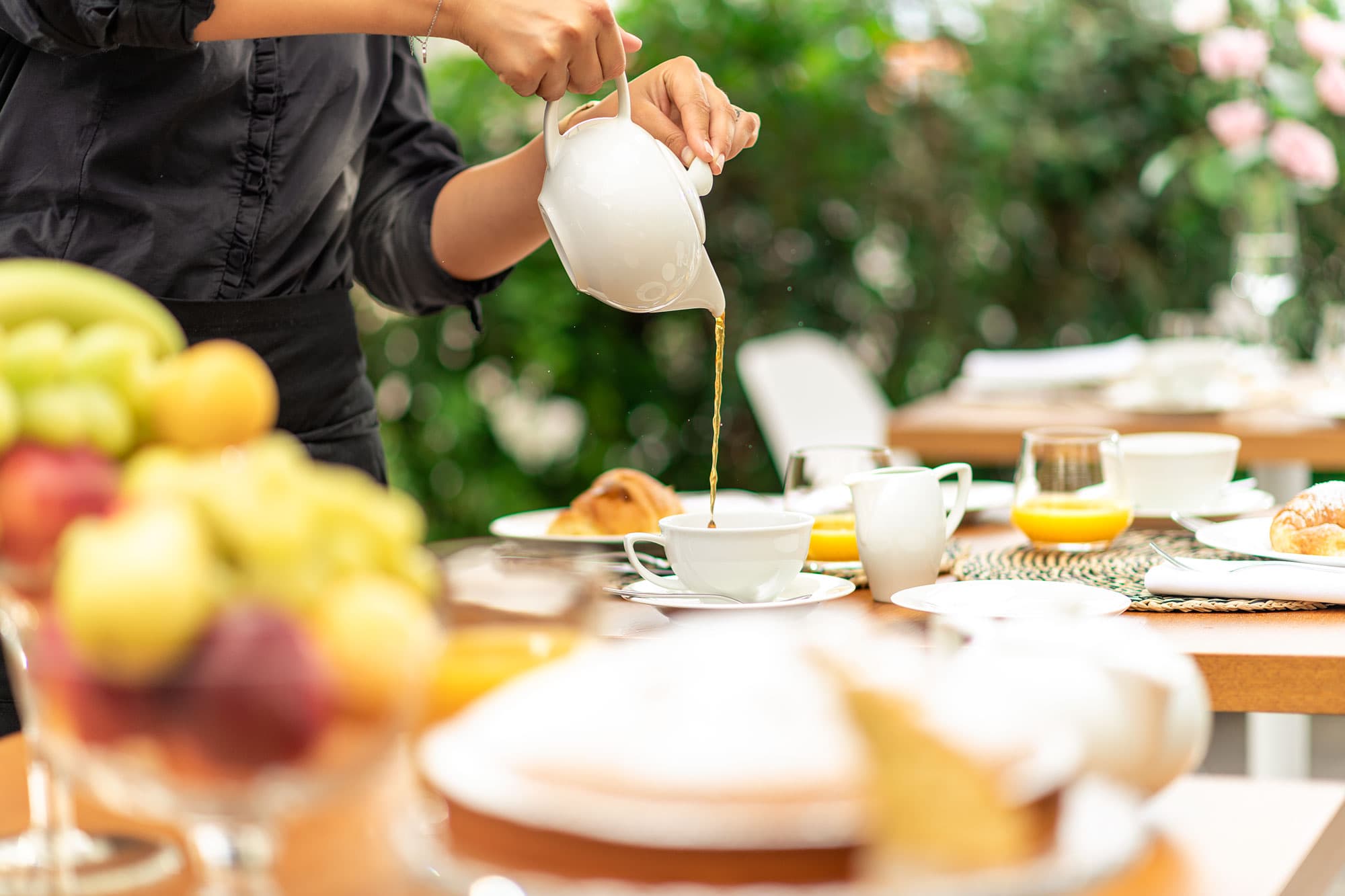 Breakfast
Fresh and authentic products every morning
We give special attention to breakfast. Each day the kitchen selects the best products to prepare the buffet, which offers:
Croissants, cakes and homemade cookies
Fresh bread and cereal
Cold cuts and fresh cheese
Fruit
The authentic food and the wide selection of coffee drinks will have you enjoy your stay at our four star Hotel in Marina di Cecina right from the morning. Breakfast at the Palace Lido Hotel & Suites is served every day from 7:00 a.m. to 10:00 a.m.
You can inform the Hotel's staff of any allergy and/or intolerance.
Smoking is not permitted in the rooms and in the common areas of the Palace Lido Hotel & Suites.
We are sorry but pets are not allowed.
The solutions we offer for your stay in our rooms and suites are:
Overnight stay and breakfast
Overnight stay, breakfast and dinner
Get in touch with us, our qualified staff will be glad to give information regarding availability and prices.
Rooms & Suites by the Tuscan Sea
Harmony,
Comfort and
Design
Three types of rooms and two exclusive suite styles equipped with Wi-Fi connection, a Samsung® Smart TV, a furnished balcony and a charming view of the sea in Marina di Cecina.